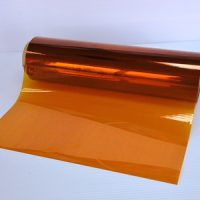 Kapton® Polyimide Film
Kapton® polyimide film possesses a unique combination of properties. The ability of Kapton® to maintain its excellent physical, electrical and mechanical properties over a wide temperature range has opened new design and application areas for plastic films. Kapton® is extensively used for aerospace, printed circuit and traction motor applications, operating up to 400°C. It has proved to be an indispensable material for demanding applications.
The primary types of Kapton® are:
Kapton® HN – Used for the majority of applications, where its properties are required over a wide temperature range. The standard sizes are shown below.
Kapton® FN – Where heat sealability is required. Kapton® is combined with Teflon® FEP resin. It is commonly used for lapping of copper conductors in electric motors and aerospace wires.
---
Kapton® Specialty Products:
Kapton® FWN – Kapton® FWN is a two-layer, polyimide, FEP fluoropolymer dispersion-coated heat-fusible composite film.
Kapton® FWR – Kapton® FWR films are polyimide-FEP fluoropolymer substrate materials that provide a tough, high dielectric strength insulation with improved hydrolysis resistance, compared to other commonly used polyimide-containing materials.
Kapton® GS – Kapton® GS film has been specifically designed and manufactured to expand the processing window and improve yields during artificial graphite sheet production.
Kapton® MT+ –  Kapton® MT+ polyimide film is a homogeneous film possessing over 5x the thermal conductivity of standard Kapton® HN, while retaining the strong mechanical and dielectric properties you expect from a polyimide film. 
Kapton® RS – Kapton® RS is an electrically conductive polyimide film developed for applications in which a precisely controlled surface resistivity is needed.
---
Kapton® HN – Standard Rolls – 610mm wide
Thickness and type
Thickness mircrons
Length  of roll M 
Yield M2/kg
   50HN

*

12.7
914
56
100HN
25.4
457
28
200HN
50.8
232
14
300HN
76.2
152
9.2
500HN
127
91
5.5
* 50HN – limited availability. 
Pronat stocks and converts Kapton® in all thicknesses for a wide range of applications. Pronat will die cut, slit, sheet and  laminate  Kapton® film to customers specification.