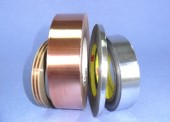 Shielding Tapes
Metal Foil Shielding Tapes are available in aluminum, reinforced aluminum and copper.
All coated with conductive adhesive on one side. These highly conformable tapes are designed for many applications requiring moisture and chemical resistance, thermal conductivity, heat and light reflectance, flame resistance, and weatherability.
 Availability :
Copper, aluminum, tin-plated copper foil,  fabric tape
Conformable copper-plated fabric backing
Smooth and embossed foil surfaces
Conductive and nonconductive acrylic adhesive
Tapes with release liners for die cutting and ease of handling.
Type:
Copper – high conductivity
Aluminum – effective shielding
Aluminum reinforced – tear resistance