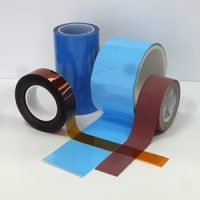 Thermal Tapes & Adhesives Transfer Tapes
Thermally conductive pressure sensitive adhesive tapes provide solutions for difficult thermal management challenges. These products can be used in place of mechanical fasteners, provide excellent thermal coupling between components and heat sinks and can accommodate materials of different coefficients of thermal expansion with the compliant interface. All of the adhesives are flame retardant and are formulated for high performance adhesion while still being easily re-workable without damage to sensitive components.
Typical Applications:
Thermal tapes are used in place of mechanical fasteners to join heat sinks to computer processors, or to electrically isolate components of a power supply while still providing an excellent thermal conduction path.
Typical Features: 
Type: aluminum and copper foil, graphite paper, transfer adhesive tapes.
Thickness: 0.11-0.3mm.
Thermal conductivity: 0.4-2.6 W/m-k 
Temperature range: -60°C  up to 260°C 
Benefits: No need for mounting holes/screw to clamp, easy to apply. 
Adhesive Transfer Tapes
Thermally conductive adhesive transfer tapes for applications requiring thin bonding with good thermal transfer 
Typical Applications:
CPU 
Flexible circuits 
Power transformer bonding to heat sinks or other cooling devices
Typical Features: 
Type: acrylic adhesive.
Thickness: 0.13-0.50 mm
Thermal conductivity: 0.4 – 0.6 W/m-k
Temperature range: up to 120°C 
Benefits: 
No need for  mounting holes/screw to clamp 
Available as die-cut parts 
Easy-to handle