Pronat Industries – Time Line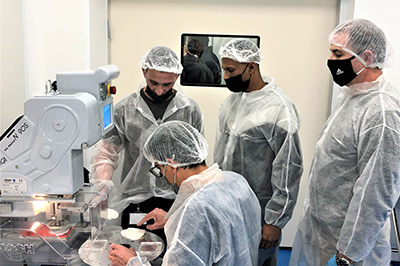 1986       Pronat Industries (PROject NATanya) established by Jonathan Weil and Harold Rosenstein for the production of electrical insulating parts and supply of insulating materials. 100M² unit rented in South Netanya Jeremy Rosenstein appointed General Manager
1989       Diversification into the Electronic Industry.
1990       The first X-Y cutting machine is purchased
1994       Pronat gains Certification of ISO9001-200
1997       Pronat is appointed a 3M Israel stockist and approved converter.
2007       Pronat relocates from Netanya to a factory unit of 2,000 M² in Emek Hefer Industrial Park
2009       Pronat Medical is established to promote the availability of medical consumables and disposables
2009       First of our Clean Rooms set up
2010       First laser cutting machine purchased
2012       Pronat Aerospace is established for the production of airframe parts for UAVs.
2013       Pronat is an exhibitor at Farnborough Air Show
2015       Pronat Medical receives ISO 13485 certification
2016       Pronat Aerospace receives AS9100D certification.
2018       Production of optical lenses and assembly of display back plates.
2019       USA facility set up in New York
2017       Pronat Aerospace is relocated to an adjacent building of 1,500M²
2021       An additional building of 500 M² is obtained for additional production and storage
Mission Statement:  Pronat Industries Limited
To provide a total solution for the supply and production of die-cut parts produced from advanced flexible & rigid materials in accordance to customer expectations.
To maintain our position as a World Class supplier and converter of passive electronic components.