3M Preferred Converter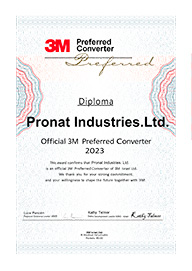 We are pleased to announce that 3M Israel has appointed Pronat Industries as their official PREFERRED CONVERTER for 2023.
Pronat is a major precision converter and die cutter of 3M adhesive products and tapes with over 38 years of experience serving the electronics, avionics and medical manufacturing sectors.
Pronat's ability to produce the most complex die cut components for demanding applications has once again been recognized by 3M as reaching the highest standards of converting and attention to quality that 3M expects from it leading precision converters throughout the world.
The certificate was presented to Jeremy Rosenstein Pronat's Managing Director, an active member of the 3M EMEA Converter Advisory Board.