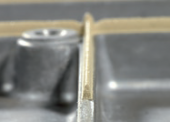 The Nolato Dispencing Process
Nolato Silikonteknik is recognized worldwide as a leading innovator and developer of dispensed and extruded silicone products for the telecom, automotive, medical and security industries.  Nolato's Trishield® range of silicone elastomeric compounds offers conductive filler material options including silver, copper, nickel and graphite for the manufacture of electromagnetic interference gaskets in the unique Trishield® shape. The Trishield® technology includes benefits of lower compression force, shorter production time and lower cost materials.
Pronat Industries is licensed to manufacture dispensed gaskets utilizing the unique Nolato Trishield® dispensing process.