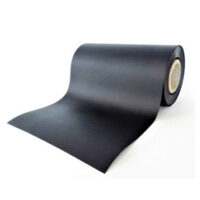 MVQ Silicone
MVQ Silicone is an elastomer based on methyl, vinyl and silicone. The ideal use of this material is in static seals especially where there is a need for high temperature resistance.In comparison with other rubbers, MVQ has a low mechanical characteristic and is therefore primarily used for the manufacture of non moving parts. It has excellent aging, weathering and ozone resistance.  MVQ has an excellent temperature resistance ranging from -60° up to +230°C and short term up to 250°C.
More Information:
MVQ is typically used for the production of O-Rings and other seal parts. It is not recommended for dynamic situations due to poor abrasion resistance and high friction characteristics.
MVQ is often used as a sealing material in the chemical, pharmaceutical and food industry.
Typical Applications:
Electronics, Heating & Ventilating, Lighting, Automotive, Construction.
MVQ Silicone is available from Pronat in the below format:
thickness 
tolerance
width
 roll  length 
standard roll area
weight
yield 
roll weight
mm
.+/-mm
mm
M
M²
kg/M²
M²/kg
Kg
1.5
0.2
1200
10
12
1.8
0.56
21.6
2.0
0.3
1200
10
12
2.4
0.42
28.8
3.0
0.3
1200
10
12
3.6
0.28
43.2
4.0
0.3
1200
10
12
4.8
0.21
57.6
Grades:
GP60- Hardness: 60 Shore A
GP40- Hardness: 40 Shore A
 
 
 
Availability:
White, black, translucent
one side with adhesive surface