PRONAT Electronics
- Gasketing & Sealing
Gasketing materials which maintain excellent resistance to compression set, exhibit high resiliency, good vibration damping and shock absorption. Die-cut parts continue to perform after constant and repeated deflection. Components prevent leakage and maintain their integrity no matter the internal or external environment.  
1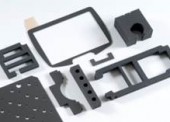 Poron® Polyurethane Foam
PORON® Microcellular Urethanes offers the flexibility required by designers to solve their mechanical cushioning requirements. From gasketing and sealing to performance cushioning.  High performance urethanes are used to seal out water and dust, absorb impact, and provide long-term gap filling.  Typical applications include handheld devices, electronic equipment, interior and exterior automotive uses and medical devise production.
More Information
Back to top ▲