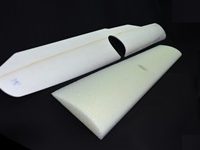 Rohacell® Wing Sections for UAVs
Rohacell® (polymethacrylimide ) structural foam is extensively used in the aerospace, marine, automotive and medical industries offering  lightweight machined parts. Pronat offers comprehensive manufacturing capabilies to produce core structures up to 2.6M wide.  In addition, we have suitable heating ovens and measuring devices to ensure consistent quality production. There are various Rohacell® grades available designed for specific applications, some of these are shown below.
Rohacell® HF is a closed-cell rigid foam with extremely low dielectric constants and particularly favourable transmission properties in the high frequency region, Rohacell® HF has been specially designed for antenna applications. Applications range from miniature antennas in cell phones to large fixed ship-based and stationary antenna structures. Other advantages of Rohacell® HF in such applications are its extremely fine cell structure that ensures minimal resin uptake, and problem-free compatibility with metallic facing materials due to the absence of corrosive effects. It  is also used in Radomes and mammography plates
Rohacell® WF is a closed-cell rigid foam which has been designed for use primarily in aerospace applications. It satisfies the usual industry requirements and also the MIL and CMS Rohacell® WF rigid foam can be processed at pressures of up to 0.7 MPa and temperatures of up to 130°C. It is therefore highly suited for autoclave prepreg processing and all typical resin infusion after heat treatment, Rohacell® WF can even tolerate curing temperatures of 180°C at a pressure of 0.7 MPa. Rohacell® WF is easy to shape with CNC routing equipment.
Rohacell® RIST is a closed-cell rigid foam It has been specially developed for use as a structural core in connection with vacuum infusion processes. Its mechanical and thermo-mechanical properties are similar to those of RohacellL® WF. Its cell size, however, represents an optimal compromise between low resin uptake, about 50% less than for the WF grade and satisfactory bonding of the facings to the foam core. Its optimized cell structure makes Rohacell® RIST particularly suitable for vacuum infusion and RTM processes, where it can be used at temperatures of 130°C and up to a pressure of 0.7 MPa. Heat treated Rohacell® RIST-HT allows safe and stable processing at a temperature of 180°C with pressures of up to 0.7 MPa. Rohacell® RIST can easy be shaped by CNC digital machining.
| | | |
| --- | --- | --- |
| | Light weight propeller and section cores are produced in a selection of designs using Rohacell®aerospace grade foam. | |
 WINGS, FLAPS, AILERONS 
 AIR FRAME PARTS