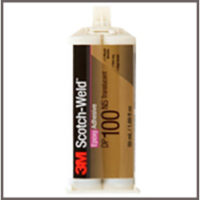 3M™ Scotch-Weld™ Epoxy Adhesive Products
3M™ Scotch-Weld™ Epoxy Adhesive DP100NS is a non-sag, two-part, rigid epoxy adhesive offering a fast cure and machinability. It is a fast-setting epoxy that cures at room temperature to form a rigid bond. Non-sag formulation ensures adhesive stays where applied.
DP100NS works on a variety of substrates including metals, ceramics, concrete and wood. With a high shear strength it delivers strong, rigid performance, making it ideal for multiple applications in the electrical, general industrial, construction and consumer goods industries
Recommended Applications
Attachment of various substrates that require permanency.
General attachment applications in a variety of industries.
Applications that require machining afterwards.