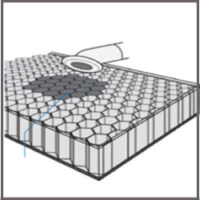 Core Reinforcement Compounds
Reinforce honeycomb and sandwich structures in load-bearing areas, such as overhead stowage compartments, partition walls, ceiling panels, galley and lavatory. These pumpable solutions save production time and labor costs — simply place cartridge in dispenser, add a nozzle and apply.
Superior compressive strength.
Excellent performance over a wide temp range.
Some meet Fire Retardant (FR) per 14CFR 25.853 and others meet Flame Smoke Toxicity (FST) requirements.
More Information
Fully automated mixing and pumping for accelerated application process
Lightweight compounds with a variety of cure speeds and compressive strengths
Non-brittle property minimizes chipping and allows insert placement
Non-sag property reduces touch-ups and rework
FR and FST options