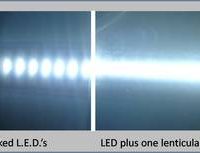 Diffuser Films
Pronat's diffusers improve the visual appearance of electronic displays
and offer a variety of solutions for LCD applications. 
One application is to reduce Moiré effect.
LSD – Light shape diffusers (Luminit):  
With superior optical transmission between 200nm and 1500nm depending on the angle of distribution, LSDs will achieve between 85% and 92% transmission efficiency.
Light Shaping Diffusers are micro-structures pseudo randomly embedded on a substrate, such as film. When applied to a lighting structure, the LSD can manipulate light by changing the direction of its energy. This allows our Light Shaping Diffusers to clean up and shape a light beam to suit a particular purpose.
Polarizer:  Our Polarizing Films offer superb transparency, reliability, and workability for LCDs (Liquid Crystal Displays). We offer a wide variety of polarizers to meet customer needs concerning all types of LCDs, including transmissive, reflective, and semitransmissive.