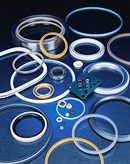 Dynalip® Rotary Lip Seals
Dynalip® seals have many PTFE and PTFE blended sealing elements. These Saint Gobain seals were designed to bridge the gap between conventional elastomer lip seals and mechanical face seals.These PTFE seals can endure hostile environments, unlike elastomer lip seals, but similar to mechanical face seals.  In addition, Dynalip® seals can be manufactured at a much lower cost than mechanical face seals.
Pronat is a Distributor for Saint Gobain in Israel 
Typical Applications:  
Hydraulic Motors & Pumps

Chemical Pumps

Rotary Compressors

Drilling & Tapping Spindles

High Speed Gearboxes

Crankshafts

Robotics

Food & Drug Processing

Mixers

Actuators

Alternators & Generato

Radar, Thermal & Optical Devices
Dynalip® picture supplied by Saint-Gobain.