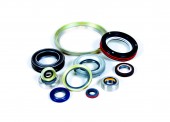 OmniLip™ PTFE Rotary Shaft Seals
Saint-Gobain Seals has a complete line of metal-cased lip seals with many PTFE and PTFE blended sealing elements. These seals were designed to bridge the gap between conventional elastomer lip seals and mechanical face seals.  OmniLip™ seals can endure hostile environments, unlike elastomer lip seals, but similar to mechanical face seals.  In addition, OmniLip™ seals can be manufactured at a much lower cost than mechanical face seals. 
 Pronat is a Distributor for Saint Gobain in Israel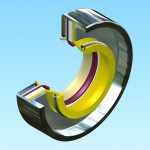 Typical Applications:
Hydraulic Motors & Pumps
Chemical Pumps
Rotary Compressors
Drilling & Tapping Spindles
High Speed Gearboxes
Crankshafts
Robotics
Food & Drug Processing
Mixers
Actuators
Alternators & Generators
Radar, Thermal & Optical Devices
All pictures supplied by Saint-Gobain.