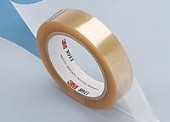 Polyester Film Tape
PET tapes are specified for electrical insulating applications requiring a thin, durable tape with high dielectric strength. They are resistant to chemicals, solvents, moisture and abrasion. 
Polyester tapes come in a choice of pressure sensitive adhesives: rubber thermoset, acrylic, silicone and silicone/rubber blends to meet specific requirements:
Acrylic for long term holding and clarity,
Silicone for high temperature performance and clean removal,
Specially-formulated rubber for resistance to plating chemicals. Many other variations of thickness, colours and surfaces are available. Yellow and clear are the most common tape used.