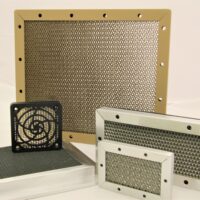 EMI Honeycomb Ventilation Panels
Aluminium honeycomb vent panels for  RFI/EMI shielding and air flow consist of an aluminium honeycomb foil held in a rigid extruded aluminium mounting frame. 
Many aluminium frame styles are available together with different thicknesses and configuration of honeycomb to meet different shielding requirements.
Protective grilles are available for vulnerable areas together with dust filtration foams.
Many plated or painted finishes can be specified.