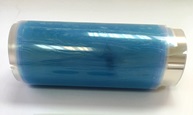 Hydrogels
Hydrogel adhesives are gentle conductive water based pressure sensitive material which provides a very good initial adhesion to skin. A high level of water content in hydrogel ensures excellent electrical conductivity. Pronat offers a range of Axelgaard & 3M hydrogels for ECG and other sensing applications. Hydrogels are also suitable for skin fixation where repeated applications to the skin are required.
Required Qualities:
Biocompatible, non-irritating, non-toxic, direct skin contact
Electrically conductive or non-conductive
Easy to use
Chemistry: Mainly water plus glycerin 
 Applications:
Connecting sensors and electrodes to the body.
Can be used as replacement of ultrasound gel.
Where very good adhesion to skin is needed
Where adhesion + cushioning is required
 3M 9880: 0.46mm Hydrogel.
This is a gentle conductive adhesive that can be used for fixation or protective cushioning. It offers very good initial skin adhesion.
Axelgaard MultiStick® hydrogel
This is available in a range of products and its special multilayer design offers uncompromised performance and adhesion to the skin as well as an optimal bond to backing materials. Axelgaard's MultiStick® technology also allows multiple applications to the skin and ensures maximum durability, longevity, and performance for any hydrogel adhesive application.