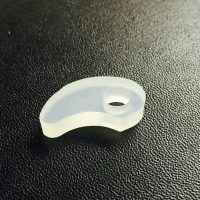 USP VI Silicones-FDA approved
Platinum Cure Silicone Elastomers
SP-2390 is a series of high-purity, platinum-catalyzed, translucent silicone elastomers that are FDA CFR 177.2600, USP Class VI*, and RoHS compliant.
SSP-2390 is a series of ultra-clean, platinum-catalyzed, heat-cured silicone elastomers that are available in various durometers (Shore A). Platinum cured silicone rubber has stronger physical properties and lower shrinkage values than peroxide cure compounds, and does not produce offgassing or catalyst byproducts. SSP's platinum cure silicones are cost-effective, and combine high-purity with FDA, USP Class VI*, and RoHS compliance.
FDA CFR 177.2600, USP Class VI*, and RoHS Compliant Materials
icone elastomers comply with FDA CFR 177.2600 requirements for rubber articles that are intended for repeated use with food. These platinum cure silicones also comply with USP Class VI requirements for compounds made from components with ingredients with clear histories of biocompatibility. SSP-2390 silicone elastomerics also comply with the European Union's Restriction of Hazardous Substances (RoHS) Directive 2002/95/E.
Translucent Silicone Compounds
SSP-2390 silicone elastomers are translucent in color (custom pigment also available) and are supplied as a ready-to-mold compound or compression-molded sheet stock. SSP can also produce continuous rolls from .005 to .125 inches thick. All SSP-2390 silicones are platinum-catalyzed and have an average shelf life of six months. Cold storage will extend shelf life. Raw materials are ready for press-cure molding.  
SSP-2390 silicone elastomers are available in 10, 20, 30, 40, 50, 60, 70, and 80 durometers. Further information is available  for tensile strength, elongation percentage, tear resistance, specific gravity, and cure profile for each durometer.