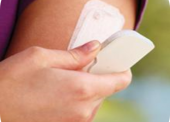 Material Selection the Available Options
Material selection, when selecting the most appropriate adhesive tape or interface material, careful consideration must be given to ensure the correct product is specified.  We show here some of the parameters that need to be identified. 
Medical adhesive tape, Required Qualities:
Biocompatible, non-irritating, non-toxic, direct skin contact 
Varying levels of conformability on skin
Different levels of water resistance 
Different levels of breathability
Types of medical adhesives, 4 kinds: acrylates, rubber based, silicone, polymer blends
Challenges of the skin:
Topography
Lipids
Contamination (oils, perspiration, dead skin cells, hairs)
Movement
Skin variability 
What to consider when choosing a medical PSA:
Target audience/ patients
Application duration
Physical requirements: mechanical strength, thickness, colour, adhesion strength.
Contact with other materials
Removal from sensitive skin can be painful ; need to select appropriate type of adhesive.
Different substrates/ backings:
Polyethylene (PE), Polyurethane (PU), Polyester (PET).
Woven & Non-Woven fibers (Polyester, Rayon/Polyester) 
Foam tapes – Polyethylene, Polyurethane (PU), or PVC foam
Aspects to consider when choosing a tape backing: softness, elasticity / conformability, porosity, easy tear.