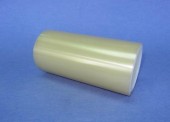 PEEK Film
PEEK (Polyetherketone) high performance polymer films offer a unique combination of properties including high temperature performance, chemical, hydrolysis and wear resistance, electrical performance, and mechanical properties. The composition and inherent purity of the polymers result in low levels of ionic extractables, low outgassing, and extremely low smoke and toxic gas emissions. They are highly stable and require no flame retardant additives to achieve VO rating.  PEEK films are FDA compliant.
PEEK Film – Properties
Property
Test Method
Typical Value (Amorphous)          
 
 
Imperial units
Metric units
 Available Thickness Range
–
2-20 mil

50-500µm

 Max. Operating Temp.
–
500ºF
260°C
 

Transition temperature

–
289ºF
143°C
 Melt Point
–
649ºF
343°C
 Dielectric Strength, 25µm
ASTM D-149  
3800 V/mil
150 kV/mm     
 Tensile Strength, Break
ASTM D-882
16600 psi
114 MPa
Pronat stocks and converts PEEK for a wide range of applications. Pronat will die cut, slit, sheet and laminate PEEK film to customers specification.