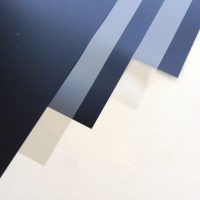 Ultem®
Ultem® Polyetherimide (PEI) is an amorphous thermoplastic film that retains its strength and rigidity at high temperatures. Its exceptional electrical properties are maintained throughout temperature and frequency variations. Its chemical resistance and FDA compliance make it a suitable material for numerous applications in the medical and food production industries. Ultem® has excellent flame retardance ideal for aerospace & avionics applications. Ultem® has proven to be ideal for various niche applications including the base material for high temperature bar-code labels, membrane switches and medical device insulators.
Material specification:
 
Test Method
Typical Value 
 Materials
 
Imperial units
Metric units
 Available Thickness Range
–
2 – 20 mil
50 – 250µm
 Max. Operating Temp.
–
340ºF
171°C

 Transition temperature

ASTM D-3418
423ºF
217°C
 Melt Point
ASTM D-3418
426ºF
219°C
 Dielectric Strength
ASTM D-149
830 V/mil
33 V/μm
 Dielectric Constant
ASTM D-150
3.15
3.15
 Specific Gravity
ASTM D-792
2.12 – 2.17
2.12 – 2.17
 Tensile Strength, Break
ASTM D-638
15200 psi
105 MPa
Ultem® is a registered trademark of GE.
Pronat stocks and converts Ultem®  for a wide range of applications. Pronat will die cut, slit, sheet and  laminate Ultem® film to customers specification.