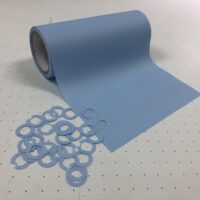 Keratherm® Ceramic tape
KERATHERM® are highly flexible products made of thermally conductive and electrically insulating single or multi-component polymers, which are filled with ceramic or thermally conductive materials.
Keratherm® thermal interface materials ensures efficient cooling of the electronic components by connecting the heat source to the heat sink.
A mechanical reinforcement of Keratherm®  by means of integrated glass fiber fabric or other materials offers the user a versatile product. Due to its flexibility and very good physical properties, extensive applications in electronics is possible.
Keratherm® is commonly used in conjunction with power electronics inautomotive applications such as batteries, electric powertrains, LED lighting,  on-board chargers, sensors and much more.
Keratherm® thermal conductive foils have a high thermal conductivity and have an electrically insulating effect.
By using Keratherm® products, assembly problems such as smearing and assembly errors can be avoided.
Compared to conventional heat conducting materials, Keratherm® products do not dry out in continuous use and therefore retain their good heat conducting properties for years.
In contrast to discs made of mica, aluminum or polyamides, Keratherm® products can be used without thermal paste.
Silicone-based Keratherm® facilitates component assembly due to its self-adhesive properties .

Commonly used grades of Keratherm®

| | | | |
| --- | --- | --- | --- |
| Grades  | Substrate | W/mK | Properties  |
| 86/37 | Heat conducting film | 2.5 |   |
| 86/60 | Heat conducting film | 4.5 |   |
| 86/60 K | Heat conducting film | 4.5 | with adhesive coating on one side |
| 86/125 | Ceramic filled film | 1.5 | single layer / adhesive on one side |
| 86/128 | Ceramic filled film | 1.5 | double layer / adhesive on one side |
| 86/200 K | Ceramic filled film | 1 | double layer / adhesive on one side |
| 86/225 | Ceramic filled film | 2 | single layer / both side strong self sticky |
| 86/228 | Ceramic filled film | 2 | double layer / one side strong self sticky |
| 86/300 K | Ceramic filled film | 2 | with adhesive coating on one side |
| 86/320 | Ceramic filled film | 2.5 | single layer / both side strong self sticky |
| 86/325 | Ceramic filled film | 3 | both sides lightly self sticky |
| 86/525 | Ceramic filled film | 5.5 |   |
| KL 90   | Heat conducting film | 1 |  adhesive tape |
| PCM471 | Phase Change Material (PCM) | 4 | filled hot-setting wax, not coated on aluminum |
| U 90 | Polyurethane film | 6 | Silicone free |
| U281 | Polyurethane film | 2 | silicone free |
Properties
Good insulation properties
Thermally conductive
Good compressibility
Flexible
Environmentally friendly
RoHS compliant
Possible applications
Powersupplies
Automotive, motor controller
LCD displays
White goods
Audio and video components
Power converter
LED lighting
Advantages
Smooth surface
Very good properties even with
the lowest contact pressure
Low hardness
High self-adhesion without glue
UL listing
Supply options
one-sided adhesive coating
cut sheet or die-cut parts
glass fiber  reinforcement
silicon free thermal pads