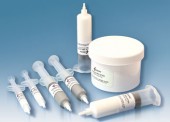 Thermally Conductive Pastes & Gels
These materials are screened, stenciled or dispensed and require virtually no compressive force to conform under typical assembly pressures. Good surface wetting results in low interfacial resistance.  Rather messy to apply for low volumes, for large quantities an automatic dispensing system is normally used. Clean removal is difficult.
Typical Applications:
Standard dc/dc power converter and dc/ac inverter,
High performance CPUs
Between any heat generating semiconductor and heat sink
Custom power modules 
Telecommunications and automotive electronics 
Typical Features:
Type: Silicone/non silicone 
Viscosity: 10,000-100,000 cps
Thermal conductivity: 0.75  – 6.0 W/m-k
Temperature range: -55°C up to 240°C
Insulation strength: up to 15,000 Volt/mm
Benefits:
Excellent surface wetting, can be  implemented by automatic dispenser, low compressive force, cost effective.
Recommended greases & gels available from stock : TG-7801, GG6620-B, GG6620-C
Thermal Conductive Greases and Gel's properties: 
Colour

Thermal Conductivity

(W /m-K)

Thermal Impedance

(°C-in2/W)

Specific Gravity Bleed (%)
Bleed  (%)
Viscosity (CPS)
Operation Temperture(°C)
 Environment 
 200°C/24Hr 
–
25°C
25°C
 200°C/24Hr 
25°C
–
  TG-7801
Grey 
3.8
0.087
2.5
<0.05
76
-50∼240°C
  TG-7420
White
1.729
0.125
2.8
<0.05
73
-50∼240°C
  TG-7700
Silver 
1.93
0.12
2.5
<0.05
68
-50∼240°C
  TG-7612
Gold 
1.829
0.123
2.4
<0.05
53
-50∼240°C
  GG6620-B
 Light purple 
3.0
<0.092
>2.3
<0.05
No Flow
-30∼180°C
Some of our supply partners of thermal gap fillers include:
GrowRich
Saint Gobain – ThermalCool grades
Fujipoly – Sarcon grades
Chomerics 
Bergquist