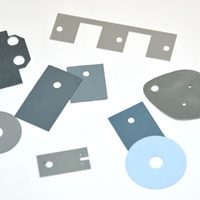 Thin Thermal Conductive Pads
These standard or fabric reinforced silicone polymer sheets are used to provide thermal management solutions where interface gaps are less than  0.50mm. These materials can be used for low cost thermal transfer requiring minimal thickness, high physical and mechanical characteristics. The fiberglass/silicone compound construction provides excellent cut through resistance, good thermal conductivity and excellent electrical insulation.
Availability: Cut sheets and die-cut parts.
Recommended insulators available from stock in various thicknesses:
| | | | | | | |
| --- | --- | --- | --- | --- | --- | --- |
| |  Colour  |  Thickness  |  Hardness  | Dielectric Strength  | Thermal Conductivity | Material  |
| | | mm | shore A | KV/mm | W/m-k |   |
|  PRN78NFX1  | Grey | 0.23-5.0 | 70 | ˃10 | 1.0 | non- fiber silicone rubber sheet |
|  PRN78NFX2  | Grey | 0.23-0.3 | 80 | ˃10 | 2.0 | non- fiber silicone rubber sheet |
|  PRS300D | Green | 0.23 | 80 | ˃6 | 3.0 | silicone rubber fibre glass reinforced |
|  PRS300F | White | 0.2 | 90 | ˃6 | 5.0 | silicone rubber fibre glass reinforced |
Some of our supply partners of thermal gap fillers include:
Grow Rich
Saint Gobain – ThermalCool grades
Fujipoly – Sarcon grades
Chomerics 
Bergquist